As a capital planner in government, you know that one of the top challenges you face is the aging of government buildings and infrastructure. The pandemic has made the situation even worse, with many organizations redirecting capital renewal funds in an effort to merely keep the doors open. You may also face the issue of the newer facilities built around the turn of the century quickly approaching needed renewal and renovation projects in the next decade. With limited funding and aging infrastructure, the ability to plan and forecast capital budgets to secure the needed funding is more important than ever.
Knowing is Half the Battle
If your organization has already acknowledged the problem of a disconnected, siloed, or non-data driven approach to Capital Budgeting and Planning then you are already headed in the right direction. If you're like many capital planners, you might track projects and building needs on spreadsheets and PowerPoint slides. You might manage this process yourself, with the input from your maintenance staff and guidance on organizational priorities from higher up. This manual process breaks down however, when there's need for a comprehensive Capital Planning strategy across agencies/departments and when multiple stakeholders are involved. Large organizations can also benefit from having a designated Asset Czar, who is responsible for managing and maintaining standards and integrity for the organization's asset data.
Go Beyond Deferred Maintenance
Understanding the total backlog of deferred maintenance is often what we think the goal of an FCA, or similar study is. However, this only tells part of the story. If we're stringent about the definition of deferred maintenance we aren't addressing the programmatic, code modernization, accessibility, or other improvements needed in a particular space. I won't go too far down that rabbit hole since we've discussed some of the top pitfalls with FCAs previously in this blog. Unfortunately, much of the information about the state of your buildings is in the heads of your technicians and other field personnel, in static Facility Condition Assessment (FCA) report collecting dust on a shelf, or in a siloed software that has no connection to your CMMS.
In our Condition Assessment solution, we can calculate both the FCI (Facility Condition Index) and FCNI (Facility Condition Needs Index) for each property. The FCNI allows you to include projects that modernize a particular space or facility, as opposed to the FCI which traditionally only includes deferred maintenance that would bring the facility up to the state which it was originally constructed. With so many buildings being built in the mid-20th century, many projects trigger additional code and compliance upgrades that might be left out of your FCI calculation.
Make Objective (not Subjective) Spending Decisions
What does your current decision-making process around which projects to fund look like? Are funds allocated based on what you and your staff believe to be the most important to your organization? Do the most vocal agencies seem to get their favorite projects funded, or in other words do the squeakiest wheels get the grease? More importantly, how can you justify your decision-making process to senior leaders or unhappy parties whose project was not funded?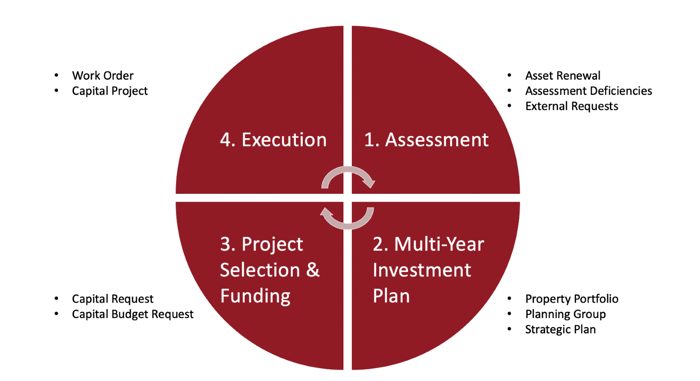 Make Plans and Projections Based on Your Strategic Goals
To answer the questions I posed above, you need to have the parameters in place to properly categorize and weight projects. More importantly, your organization needs to have a defined process such as illustrated above (and a tool that can handle your process!) to successfully complete this process year after year. Here is a breakdown of the 4-step process that many of our customers use, which has proven to be successful in these efforts.
1. Think Credible Data! Conduct regular assessment to obtain a complete and accurate Needs Library.
This can be performed by a 3rd party services firm, and even entered directly in your software. You could also employ your internal staff to complete as part of regular equipment and building inspections. And as pointed out earlier, having an Asset Czar in place to ensure the credibility of the data is key.
2. Logically group and plan your investments. Why and Where do we want to invest your Capital Renewal funds?
The "Why" can be thought of as the way we traditionally categorize projects in FCA reports or similar planning studies. We call these Planning Groups. Categories such as Asset Reliability, Asset Preservation, Safety/Code Compliance, Programmatic/Learning Update, or even Pandemic Response could make up your Planning Groups. This methodology allows you to not just have one list of projects, where you would be trying to compare a carpet replacement project against a code compliance issue such as the replacement of a fire alarm panel. By creating your Planning Groups, you have an apples to apples, oranges to oranges way to determine investment priorities.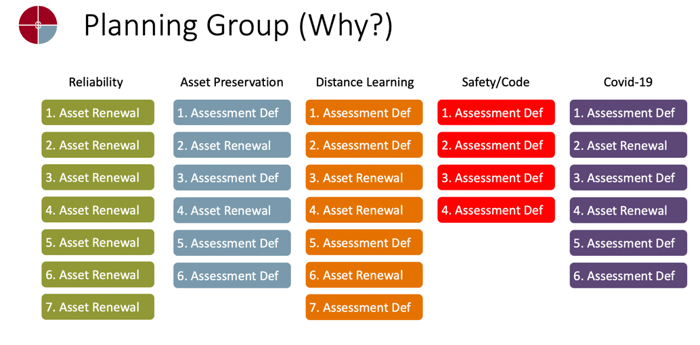 We refer to the "Where" in this process as building your Property Portfolios, or Property Portfolio Analysis. Each building falls into a strategic portfolio based on the primary mission taking place there. Think about the services provided by your agencies/departments, and your organizational goals and priorities, and these categories are easy to define. Transportation, Public Health, Parks & Recreation, and Infrastructure are common to many organizations. However, you could go a step further and incorporate the goals of the organization, such as community engagement or public transportation into a Property Portfolio.
3. Based upon the Strategic Vision provided in Step 2, create Capital Requests based upon groupings of Needs. Create a capital budget request which may be approved for execution and funded.
By combining the "Why" of your Planning Groups with the "Where" of your Property Portfolios, this is where the magic starts to happen. Your Strategic Plan comes together based on the amount of funding available, the prioritization of projects, and the desired end state after each round of projects. Having a software that helps you choose and sort the right combination of projects based on available funding and weighting of project priorities, along with the ability to create multiple scenarios, allows you to make those objective decisions that are easily explained and defended. Inevitably someone's project won't be funded, but you will be able to clearly show why it wasn't.
Remember that your entire capital renewal effort will consist of your Renewal and Replacement Needs Library based on your assessment data, combined with external Capital Requests for new items such as building additions or infrastructure expansion projects.
4. Execute your project list. Either through Maintenance work orders and/or Capital Projects.
This is where the concept of a Capital Budgeting Software, such as our Condition Assessment module, that is connected to both your Maintenance and Operations and Capital Improvement software is key to your success. Understanding that a piece of equipment was replaced or renewed as part of a maintenance activity or larger project should either cancel or delay a Capital Renewal project in real time, allowing your plan to automatically adjust based on the parameters you previously set.
Ready to Get Started?
The best way to learn more is to contact the FacilityForce Government team. With an average of over 15 years of experience on our team we'd love to talk about how we can help take your capital planning efforts to the next level.
Related Resources:
Subscribe to FacilityForce' Blog & Newsletter